Reception

Diamond Class

Teacher: Ms Caroline Keigan
ckeigan.205@lgflmail.org

Teaching Assistant: Mrs Ida Afrifa

Moonstone Class

Teacher: Mr Adam Staples


astaples4.205@lgflmail.org

Teaching Assistant: Mrs Hajiba Elazoua

Learning Support Assistant: Ms Farah Malouk

Early Years Learning Support Teacher: Mrs Louisa Trandafilovski


Welcome
Welcome back to school (2017-18)! We hope you enjoyed your holiday. Here you will find information about your child's learning.
If you have any questions please do not hesitate to ask us.
Latest School, Term Dates, Friends PTA, Reception Events
Christingle Assembly

12

Dec

2017

9:00 am - 10:00 am

Year 5 and 6 choir singing at LBHF Christmas Festival

12

Dec

2017

Christmas Lunch

13

Dec

2017

11:30 am - 1:30 pm

*Reception Nativity Play

13

Dec

2017

2:00 pm - 3:00 pm

Christmas Jumper Day!

15

Dec

2017

Wear a Christmas Jumper and bring a donation of £1 or more. All money received will go to Save the Children https://christmasjumperday.org/

Last day of Autumn term

15

Dec

2017

School finishes at 2:30pm

Staff INSET (School Closed)

02

Jan

2018

Start of Spring term

04

Jan

2018

* Parent workshop on MIND UP curriculum

10

Jan

2018

9:00 am - 10:00 am

Come and find out more about the MIND UP curriculum which has been running in school since September 2017. This session will be run by Helen Barratt, our MIND UP consultant. More information to follow.

* Enabling Enterprise parent workshop

19

Jan

2018

9:00 am - 10:00 am

Come along to find out more about Enabling Enterprise.

*LKS2 Certificate Assembly

30

Jan

2018

9:00 am - 9:30 am

Enabling Enterprise Challenge Day (Reception to Year 6)

01

Feb

2018

Maths Week

05

Feb

2018

* Friends of Wendell Park Quiz Night

07

Feb

2018

7:00 pm - 10:00 pm

Sign to Sing fundraising event

09

Feb

2018
Information
Things to note:
School day - School starts at 8.50am. Children should line up near their class ready to go in when the bell goes. It is important to be on time so we can get going with our day. School finishes at 3.30pm (2.30pm on Fridays).
Rain - If it is raining at the start of the day children can come in to class early.
Water - We have drinking water available all day but your child is welcome to bring a water drinking bottle in too, these will be given back at the end of each day.
Website - There is a Wendell Park School newsletter available each Friday and please click here to view the latest issues.
Spare Clothes - Please bring a set of spare clothes to put on your peg just in case.
'Show and Tell' box - Please note there is only one box per class and this will be sent home at the class teacher's discretion.
Stay and Play every Friday morning 8.50am-9.20am (unless otherwise advised).
Weekly Timetable
Monday - Selected group visit to the Pond and Garden.
Tuesday - Forest Schools lesson for selected group (you will receive a letter).
Wednesday - Return Homework.
Friday - PE, Music, Homework given out.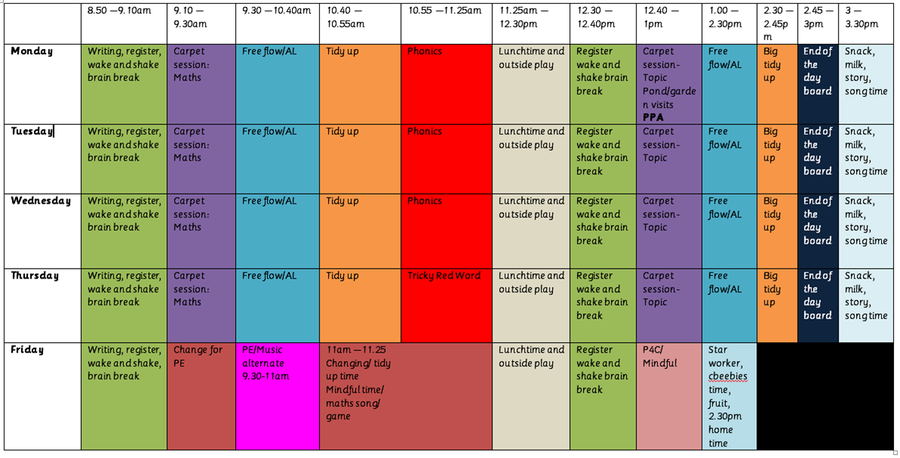 Homework is designed to help your child with the letter formation and maths skills.
Reading books are given to help support your child as they learn to read and build the skills they need to read. Please find a moment in the week to read with your child and make a comment in their reading tracker.
If you have any questions about phonics or reading, please speak to your class teacher, Ms Coetzee (Early Years Leader) or Mrs Hough (Deputy Headteacher).
For Spring 1 our topic will be 'Splash'. Please see below links for more information.