Reception

Diamond Class

Moonstone Class

Teacher: Mrs Louisa Trandafilovski and Mr Daniel Round


ltrandafilovsk.205@lgflmail.org

Teaching Assistant: Mrs Hajiba Elazoua

Learning Support Assistant: Ms Farah Malouk


Welcome
Welcome back for Summer term 2018! Here you will find information about your child's learning.
If you have any questions please do not hesitate to ask us.
Latest School, Term Dates, Friends PTA, Reception Events
* Secondary School transition meeting for Year 5 and 6 parents

21

Sep

2018

9:00 am - 10:00 am @ Middle Floor Hall

Parents and carers of children in Year 5 and 6 are invited to attend a transition meeting with Sam Lord (Education and Transition Consultant). The session takes parents, carers and guardians through the secondary school process, breaks down myths and barriers that they may of previously held about the process. The session gives an opportunity to ask any questions they have regarding secondary school transition and explore options that they might not have thought about before. The information is current and up to date. The session ensures that parents understand the admission criteria of different schools and that they are aware of how important it is to make six pragmatic choices for their children. They are made aware of the online application process and how to navigate around the online application form and upload additional information. The meeting will take place in the Middle Floor Hall and will be for approximately one hour. Sam Lord will be available to answer questions. We are inviting both Year 5 and Year 6 parents as previously our Year 5 parents have found this useful to be able to have more time to explore the options available.

Friends of Wendell Park 'Back to School' Disco

28

Sep

2018

3:30 pm - 5:30 pm

Timings of the FOWP 'Back to School' Disco to be confirmed.

Year 5 and 6 trip to the Primary Proms at the Royal Albert Hall

10

Oct

2018

Reception Graduation 2018
Save the date- Wednesday 11th July 9.15am
Please come along and celebrate your child's fantastic achievements over the school year.
Information
Stay and Play dates for Summer 2
We have a busy half term ahead, therefore Stay and Play will only be on the following Fridays:
Friday 8th June
Friday 15th June
Look out for other opportunities to come into school, e.g. Arts Week Activities, Big Lunch, Summer Fair, Open Parents Evening, Graduation.
Meet the teacher 13th September 2017
Things to note:
School day - School starts at 8.50am. Children should line up near their class ready to go in when the bell goes. It is important to be on time so we can get going with our day. School finishes at 3.30pm (2.30pm on Fridays).
Rain - If it is raining at the start of the day children can come in to class early.
Water - We have drinking water available all day but your child is welcome to bring a water drinking bottle in too, these will be given back at the end of each day.
Website - There is a Wendell Park School newsletter available each Friday and please click here to view the latest issues.
Spare Clothes - Please bring a set of spare clothes to put on your peg just in case.
'Show and Tell' box - Please note there is only one box per class and this will be sent home at the class teacher's discretion.
Stay and Play selected Friday mornings for Summer 2, 8.50am-9.20am (please see above 'Information').
Weekly Timetable
Tuesday - Forest Schools lesson for selected group (you will receive a letter). Diamond Class visits the library.
Wednesday - Return Homework.
Thursday - Moonstone Class visits the library.
Friday - Stay and play, PE, Music, Homework given out.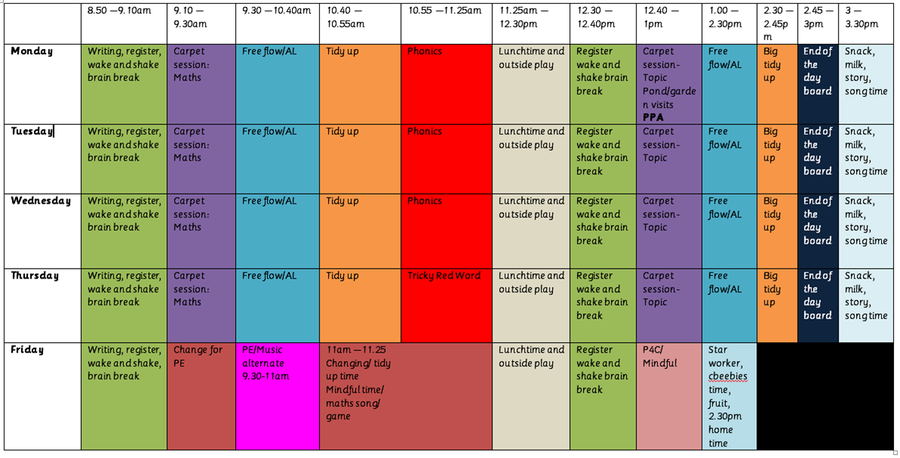 Homework is designed to help your child with the letter formation and maths skills.
Reading books are given to help support your child as they learn to read and build the skills they need to read. Please find a moment in the week to read with your child and make a comment in their reading tracker.
If you have any questions about phonics or reading, please speak to your class teacher, Ms Coetzee (Early Years Leader) or Mrs Hough (Deputy Headteacher).