Year 3

Jet Class

Teacher: Miss Victoria Williams

Turquoise Class

Teacher: Ms Chloe Harman

Year 3 Teaching Assistant: Ms Tina Batchelor

Year 3 Learning Support Teachers: Mrs Oun (Maths); Mr Jon Spencer (English)
Year 3 Learning Support Assistant: Mrs Rachida Terzi
| | |
| --- | --- |
| Next Jet Class Assembly - Thursday 29th June 2017 | Next Turquoise Class Assembly - Thursday 18th May 2017 |
Welcome
Well done everyone for all your hard work this term. Happy Easter and have a wonderful holiday.
Please see the curriculum newsletter below to see what your child will be covering in Summer 1.
Diary
Latest School, Term Dates, Friends PTA, Year 3 Events
Summer break

22

Jul

2017

INSET Day

31

Aug

2017

First day of Autumn Term (Years 1 to 6)

04

Sep

2017

*Special Eid Assembly

07

Sep

2017

9:00 am - 9:30 am

*Welcome back to Wendell event

13

Sep

2017

3:45 pm - 4:30 pm @ Middle Floor Hall followed by classrooms

The 'Welcome back to Wendell' event will begin with a meeting with the senior leaders to discuss the vision for the school for the next three years. There will also be an introduction to the 'Mind Up' curriculum being introduced this year. Following on from the meeting with the senior leaders, parents are invited to go to their children's classes to speak to their new class teachers. At that meeting, you will find out more about the procedures in class (when reading books and homework are due in), information about the curriculum and special events being planned. This is also an excellent opportunity to ask your new class teacher any questions. We understand that some families need to attend more than one class so please feel free to move from class to class. The event will finish at 4:30pm.

*Harvest Assemby

28

Sep

2017

9:00 am - 9:30 am

We will be collecting produce for local charities - further information to follow.

*Friends of Wendell Park 'Back to School' Disco

29

Sep

2017

Timings to be confirmed

Black History Month begins

01

Oct

2017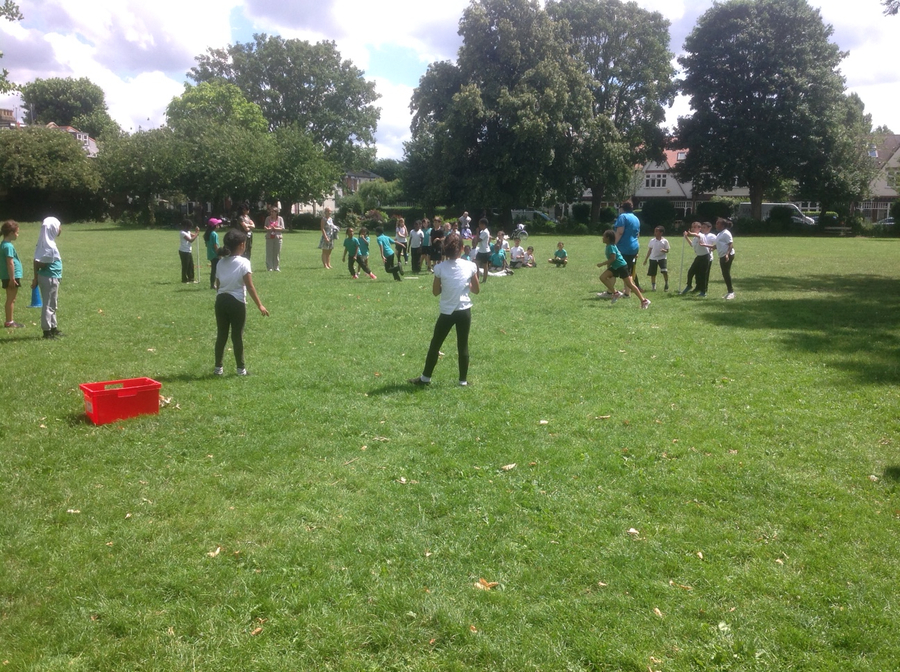 Year 3 had a lots of fun playing rounders with Kenmont after a morning of P4C.
Additional Information
PE - Both classes will have PE on Mondays and Tuesdays. Please ensure that your child brings appropriate clothing for these sessions (white, plain t-shirt, dark jogging bottoms or shorts, and sweatshirt) or they will not take part, which will mean missing a vital part of the curriculum. A letter needs to be written if a child is unable to participate in PE.
Homework - Children will be given a homework task each Friday based on the week's learning. This will be due in every Wednesday. They will be marked and returned for Friday.
Spelling - They will also be given weekly spelling lists about a spelling rule and spelling tests will be on a Friday morning.
Reading - Children are also encouraged to read for at least 15 minutes every evening. Reading books are changed on Mondays and Thursdays. Reading Records must be handed in with the Reading book so that we are able to keep a track of books which have been handed out and returned.
Water - Please remember it is important that your child brings water (not juice please) that they can drink during lessons, also this is one way to ensure that their brains are working to their full potential. Please make sure these are clearly labelled with their name.
Attendance - please try to ensure your child is lining up by 8.45am ready to come in when the bell rings at 8.50am.
Weekly Timetable
Mondays - Change reading books; PE kits
Tuesdays - PE kits
Wednesdays - Homework to class teacher
Thursdays - Change reading books
Fridays - Spelling test and new spellings issued; times table test; homework returned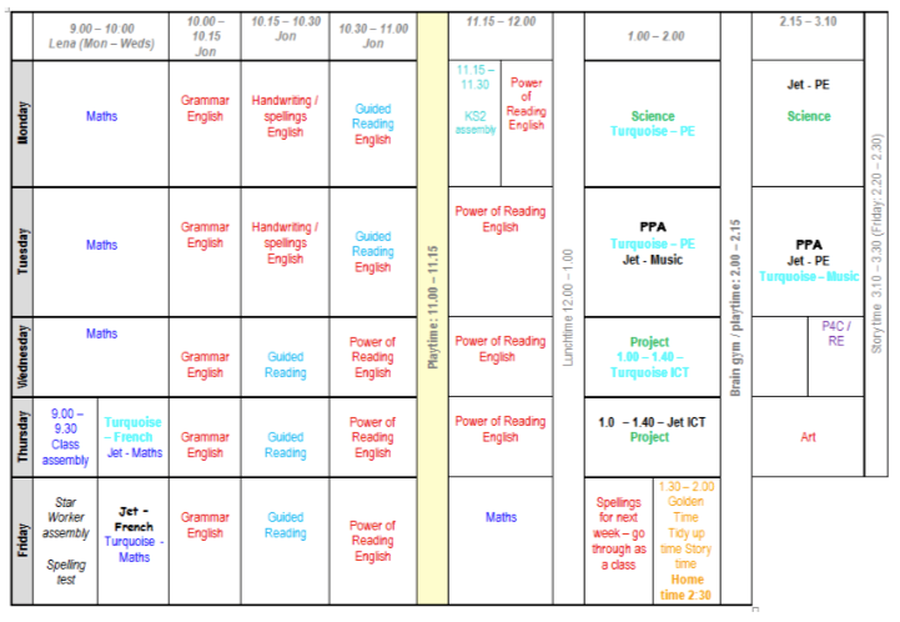 Homework & Spellings
Please download this week's homework due on:
Maths homework in Maths homework book
w/b 26th June - no homework. Children have worked very hard during assessment week!
Maths homework in Maths homework book
Please download this week's spellings to be tested on:
Our Summer 2 project is 'How Other People Live'. Please see the curriculum newsletter for more information.
Science
Our Summer 2 topic is 'Amazing Bodies'. Please see the curriculum newsletter for more information.