Year 5

Amber Class

Teacher: Ms Ayan Yusuf

Pearl Class

Teacher: Mr Nick Morgan

Year 5 Teaching Assistant: Ms Carol Eavis

Upper KS2 Learning Support Teacher: Mr Jonathan Spencer
Welcome!
Welcome back! We hope you have had a restful and enjoyable half term
Although it may be hard to believe, we now find ourselves in the final half term of Year 5! This half term your child will be covering a range of interesting and exciting topics. Please
read our curriculum newsletter which is full of information about the term ahead.
As ever, thank you for your continued support and please contact us if you have any questions.
Diary
Latest School, Term Dates, Friends PTA, Year 5 Events
Summer break

22

Jul

2017

INSET Day

31

Aug

2017

First day of Autumn Term (Years 1 to 6)

04

Sep

2017

*Special Eid Assembly

07

Sep

2017

9:00 am - 9:30 am

*Welcome back to Wendell event

13

Sep

2017

3:45 pm - 4:30 pm @ Middle Floor Hall followed by classrooms

The 'Welcome back to Wendell' event will begin with a meeting with the senior leaders to discuss the vision for the school for the next three years. There will also be an introduction to the 'Mind Up' curriculum being introduced this year. Following on from the meeting with the senior leaders, parents are invited to go to their children's classes to speak to their new class teachers. At that meeting, you will find out more about the procedures in class (when reading books and homework are due in), information about the curriculum and special events being planned. This is also an excellent opportunity to ask your new class teacher any questions. We understand that some families need to attend more than one class so please feel free to move from class to class. The event will finish at 4:30pm.

*Harvest Assemby

28

Sep

2017

9:00 am - 9:30 am

We will be collecting produce for local charities - further information to follow.

*Friends of Wendell Park 'Back to School' Disco

29

Sep

2017

Timings to be confirmed

Black History Month begins

01

Oct

2017
Year 5 curriculum newsletter
Click to download the newsletter for this half term:
Other information
PE - Amber class PE sessions will be on Wednesdays and Fridays.
Pearl class PE sessions will be on Wednesdays.
Homework - will be given on Fridays. This will consist of a range of written, practical and investigational activities alongside the learning of spellings and times table facts. Homework must be returned by Wednesday. Children are also expected to read, either with you or alone, for 15-20 minutes every evening.
Spellings - Children will also be given weekly spellings to learn and will be tested every Friday.
Water - It is vital that your child brings a water bottle to school that they can drink during lessons. This is one way to ensure that their brains are working to their full potential.
Behaviour - It is expected that every child in Year 5 complies with the Behaviour Policy. All behaviour will be monitored and every class will adhere to the 'traffic light' system, ensuring that children are always aware of their behaviour throughout the school day.
Weekly Timetable
Mondays - Reading books
Tuesdays -
Wednesdays - PE kit (Amber & Pearl), Homework due in
Thursdays - Reading books
Fridays - PE kit (Amber), Spelling test, Homework sent out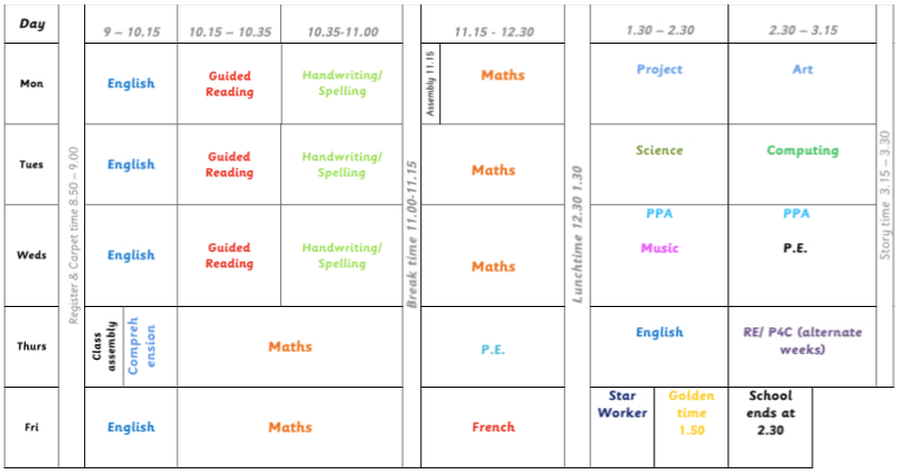 Homework & Spellings
Please click here for this week's homework due on Wednesday 5th July 2017:
English: No English homework this week. Have a well deserved rest after 2 very busy weeks of assessments and Art!
Mathematics: Pages 65-66 in your workbooks
Download this term's spellings -
Project
This term your child will be learning all about why we have different weather. We will look at measuring wind as well as identifying the tools used to measure temperature and precipitation.