Year 6

Amethyst Class

Teacher: Miss Jemma Johnson

Garnet Class

Teacher: Miss Arabella Atac

Year 6 Learning Support Teacher: Miss Adelaide Macleman

Next Amethyst Class Assembly - Thursday 19th July 2018 (Year 6 Leavers Assembly)

Next Garnet Class Assembl

y

- Thursday 19th July 2018 (Year 6 Leavers Assembly)
Welcome to Year 6!
Welcome back to the 2017-2018 academic year and thank you for visiting our Year 6 page. We will be sharing lots of the activities, visits and events that we have been involved in throughout the year.
We hope you enjoy sharing our learning with us.
This page will be updated on a weekly basis to help you find all the homework information that you need and additional information about important upcoming events.
School journey
Monday 11th June – Wednesday 13th June 2018
All spaces are now filled.
There will be an opportunity to come into school to find out more about what the journey entails which will come later in the year.
The trip itself will cost total of £184 and you will be able to pay this in full or in installments. From September 2017, all trip payments will be made via our online system. These can be made in the same way as school dinner and after school clubs payments via the online system. Please ensure your school gateway account is activated and if you have any questions, please speak to the School Office.
Payment for this trip can be made from 17th January 2018.
SATs 2018
During the month of May, Year 6 children will sit for their SATs test. These will be held from Monday 14th May 2018 to Thursday 17th May 2018. The full timetable can be seen below.
To ensure that your child has the best possible support from you at home, please make sure that they:
Go to bed early and are sufficiently rested

– this will ensure that they have plentiful energy stores to keep them powering on through test week.

Eat a good, healthy breakfast

– a healthy, hearty start to the day will boost their energy levels and keep them concentrating for longer.

Come to school each and every day and be punctual

– children must be in school every day and on time. This is particularly important during the test week as latecomers may miss the start of the tests.

Stay hydrated

– ensure you provide your child with a bottle of water – this will keep them alert and hydrated throughout test week.

Talk to the children about the tests and their feelings

- this will help relieve any worries or anxieties that they may be feeling. Children react differently when confronted with examinations – some are rearing to go, whilst others may have worries or nerves. Talking to your child will help you to better understand how they are feeling about the upcoming tests and you can support them emotionally.

Complete homework tasks and revision activities together

– this way you can see what we have been learning in class and can offer support and encouragement when it is most needed. Children rely on positive feedback and praise, so be plentiful with it.

Most importantly, explain and remind children that the SATs tests are just one way of showing what children know.

They are by no means a definitive indicator of intelligence! They are most definitely not the be all and end all to schooling! All that we ask is that children try their best – that is good enough for us!
Timetable for 2017-2018 SATs
The timetable shows a list of tests and the dates they will be administered.

General Information
PE - Children must bring a PE kit on Wednesday afternoons for their sports session otherwise they will not be permitted to participate. Please ensure that PE kits adhere to regulatory uniform – no football strips or brightly coloured footwear.
Homework - will be given on a Friday and is due back on a Thursday.
Uniform - Regulatory school uniform should be worn at all times. Please ensure that your child is suitably dressed for the autumn weather (a warm coat will be needed for colder playtimes).
Water - Please provide your child with a reusable water bottle that can be kept in classrooms, thereby stopping infrequent visits to the cloakroom.
Punctuality - Pupils to be in school promptly for an 8.50am start.
Weekly Timetable
Mondays - 9am whole school assembly and spelling test.
Tuesdays -
Wednesdays - singing assembly held in the afternoon. P.E kits required for Sports lesson.
Thursdays - Class assembly at 9am and homework due in.
Fridays - Golden Time.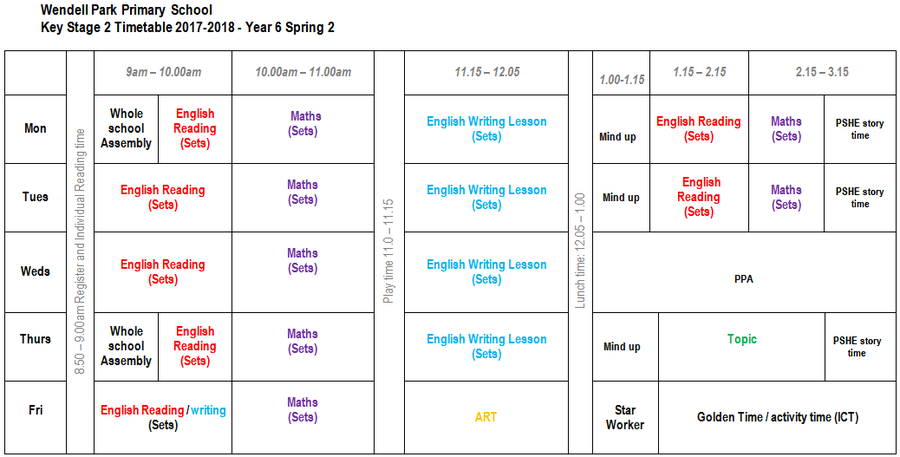 Free homework club!
If anyone from Year 5 or Year 6 would like additional support with their core subjects (reading, spelling and school projects) then they are able to join the Homework Club at Phoenix Academy. It runs every Thursday at Phoenix Academy, from 3.30pm to 5.30pm.
Please click here to see the Homework Club Flyer and click here to find the registration form.
Secondary Transfer
The online admissions procedure for children in Year 6 who will be moving to secondary school in September 2018 is now open. The deadline for applications to be made is 31st October 2017. You need to apply using the online form which can be found on the website of your home borough (even if you are applying for a school outside your home borough). The websites can be found below along with the admissions booklets for Hammersmith & Fulham (Tri-Borough), Ealing and Hounslow. It is recommended that you include all six choices on your application form. If you have any questions regarding the online application process, please speak to your class teacher, Mrs Hough or Ms Peters.
Hammersmith & Fulham:
Visiting dates for schools in the Tri-Borough
Ealing:
Hounslow: