Year 6

Amethyst Class

Teacher: Miss Jemma Johnson

Garnet Class

Teacher: Miss Arabella Atac

Year 6 Learning Support Teacher: Miss Adelaide Macleman

Next Amethyst Class Assembly -

Next Garnet Class Assembl

y

-
Welcome to Year 6!
Welcome back to the 2017-2018 academic year and thank you for visiting our Year 6 page. We will be sharing lots of the activities, visits and events that we have been involved in throughout the year.
We hope you enjoy sharing our learning with us.
This page will be updated on a weekly basis to help you find all the homework information that you need and additional information about important upcoming events.
Free homework club!
If anyone from Year 5 or Year 6 would like additional support with their core subjects (reading, spelling and school projects) then they are able to join the Homework Club at Phoenix Academy. It runs every Thursday at Phoenix Academy, from 3.30pm to 5.30pm.
Please click here to see the Homework Club Flyer and click here to find the registration form.
Diary
Latest School, Term Dates, Friends PTA, Year 6 Events
Christingle Assembly

12

Dec

2017

9:00 am - 10:00 am

Year 5 and 6 choir singing at LBHF Christmas Festival

12

Dec

2017

Christmas Lunch

13

Dec

2017

11:30 am - 1:30 pm

Christmas Jumper Day!

15

Dec

2017

Wear a Christmas Jumper and bring a donation of £1 or more. All money received will go to Save the Children https://christmasjumperday.org/

Last day of Autumn term

15

Dec

2017

School finishes at 2:30pm

Staff INSET (School Closed)

02

Jan

2018

Start of Spring term

04

Jan

2018

* Parent workshop on MIND UP curriculum

10

Jan

2018

9:00 am - 10:00 am

Come and find out more about the MIND UP curriculum which has been running in school since September 2017. This session will be run by Helen Barratt, our MIND UP consultant. More information to follow.

* Enabling Enterprise parent workshop

19

Jan

2018

9:00 am - 10:00 am

Come along to find out more about Enabling Enterprise.

*LKS2 Certificate Assembly

30

Jan

2018

9:00 am - 9:30 am

*UKS2 Certificate Assembly

31

Jan

2018

9:00 am - 9:30 am

Enabling Enterprise Challenge Day (Reception to Year 6)

01

Feb

2018

Maths Week

05

Feb

2018

* Friends of Wendell Park Quiz Night

07

Feb

2018

7:00 pm - 10:00 pm

Sign to Sing fundraising event

09

Feb

2018
Year 6 curriculum newsletters
General Information
PE - Children must bring a PE kit on Wednesday afternoons for their sports session otherwise they will not be permitted to participate. Please ensure that PE kits adhere to regulatory uniform – no football strips or brightly coloured footwear.
Homework - will be given on a Friday and is due back on a Thursday.
Uniform - Regulatory school uniform should be worn at all times. Please ensure that your child is suitably dressed for the autumn weather (a warm coat will be needed for colder playtimes).
Water - Please provide your child with a reusable water bottle that can be kept in classrooms, thereby stopping infrequent visits to the cloakroom.
Punctuality - Pupils to be in school promptly for an 8.50am start.
Please find the Meet the Teacher power point that contains a variety of information that will be relevant in supporting your child through their time in Year 6.
Expectations
Reading - Pupils in Year 6 should be reading daily and as much as possible.
Times tables - By the end of Year 6 pupils should know all of their times tables and we recommend that these are practised as much as possible.
Spelling - Pupils will be given a weekly spelling test on Monday and so we expect them to revise their spellings at home.
Please find the Year 4 - 6 words to use at home here. Pupils should e able to spell all these words by the end of Year 6.
Weekly Timetable
Mondays - 9am whole school assembly and spelling test.
Tuesdays -
Wednesdays - singing assembly held in the afternoon. P.E kits required for Sports lesson.
Thursdays - Class assembly at 9am and homework due in.
Fridays - Golden Time.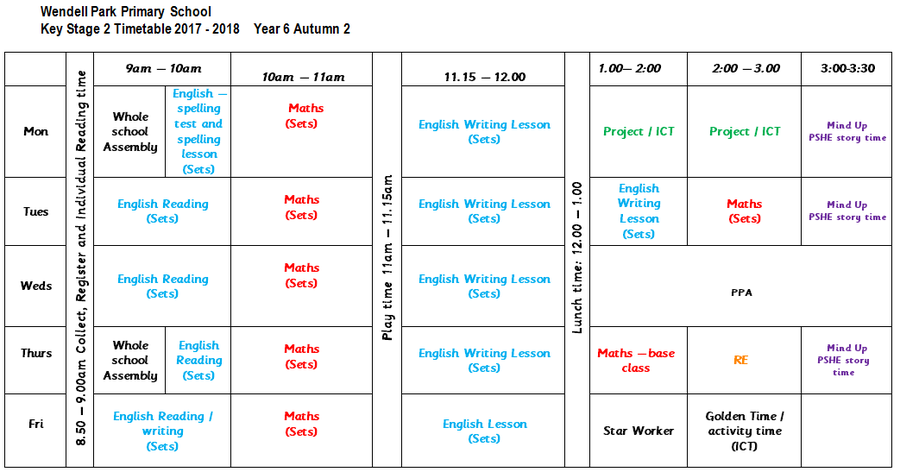 Project
Topic - This term we will be looking at World War II which follows on from the World War I topic that the pupils studied in Year 5. We will be thinking about how the previous world war contributed towards the second as well as learn about pivotal battles and developments that occurred during this time. We will also study the impact the war had both on the home front and in the battlefield with a focus on the inventions that were created in this period. .
School journey
Parents should be aware that we have decided to move this to early in 2018. The trip will still be going ahead! Further information about the dates of the trip as well as the cost will be made available as soon as we have confirmation.
Secondary Transfer
The online admissions procedure for children in Year 6 who will be moving to secondary school in September 2018 is now open. The deadline for applications to be made is 31st October 2017. You need to apply using the online form which can be found on the website of your home borough (even if you are applying for a school outside your home borough). The websites can be found below along with the admissions booklets for Hammersmith & Fulham (Tri-Borough), Ealing and Hounslow. It is recommended that you include all six choices on your application form. If you have any questions regarding the online application process, please speak to your class teacher, Mrs Hough or Ms Peters.
Hammersmith & Fulham:
Visiting dates for schools in the Tri-Borough
Ealing:
Hounslow: