Year 6

Amethyst Class

Teacher: Miss Jemma Johnson

Garnet Class

Teacher: Miss Arabella Atac

Upper KS2 Learning Support Teacher: Miss Juliette Lambert

Next Amethyst Class Assembly - Leavers Assembly 20th July

Next Garnet Class Assembl

y

- Leavers Assembly 20th July
Welcome to Year 6!
Thank you for visiting our Year 6 page. We will be sharing lots of the activities, visits and events that we have been involved in throughout the year.
We hope you enjoy sharing our learning with us.
Diary
Latest School, Term Dates, Friends PTA, Year 6 Events
Arts Week

26

Jun

2017

Group of Year 5 and 6 children to City Pitch at City Hall

28

Jun

2017

Year 3 Jet Class Assembly

29

Jun

2017

9:00 am - 9:30 am

*Big Lunch 2017

30

Jun

2017

11:30 am - 1:30 pm

Join Wendell Park Primary School for our annual Big Lunch 2017. The theme for 2017 is 'The Great Get Together' in memory of Jo Cox (MP) in celebration of her belief that we have more in common. Children and adults can dress with an African theme as part of our celebration of Arts Week - the theme of Tanzania.

Year 6 to Kite Studios

03

Jul

2017

1:30 pm - 2:30 pm

After school clubs finish

03

Jul

2017

3:30 pm - 07 jul, 4:30 pm

Kite Studios Art Nurture Group exhibition of work

04

Jul

2017

3:00 pm - 4:00 pm

Year 2 Opal Class Assembly

06

Jul

2017

9:00 am - 9:30 am

*Sports Day (various times)

06

Jul

2017

*Art Gallery Opening

06

Jul

2017

3:30 pm - 4:30 pm

Year 6 Leavers Party

07

Jul

2017

2:30 pm - 5:00 pm

Enabling Enterprise Week

10

Jul

2017

Pupils' reports to parents

10

Jul

2017

Choir Assembly

13

Jul

2017

9:00 am - 9:30 am

Coffee afternoon for all parents of children with special educational needs

13

Jul

2017

2:30 pm - 3:30 pm

*Friends Summer Fair

14

Jul

2017

2:30 pm - 4:30 pm

Years 2 to 5 attending the World Para Athletics Championship

17

Jul

2017

*Yr6 Certificate Assembly KS2

19

Jul

2017

9:00 am - 9:30 am

Children meet their new class teachers

19

Jul

2017

10:30 am - 11:30 am

* The Wendell Park Proms

19

Jul

2017

1:30 pm - 3:30 pm

*Open Parents evening

19

Jul

2017

3:45 pm - 6:30 pm

Yr6 Leavers' assembly

20

Jul

2017

9:00 am - 9:30 am

Summer Term ends

21

Jul

2017

2:30 pm - 3:00 pm

Summer break

22

Jul

2017
Weekly Timetable
Mondays - In base classes for the entire day.
Tuesdays - Garnet class swimming.
Wednesdays - Amethyst class swimming.
Thursdays - PE kits needed.
Fridays - Golden Time.
Year 6 curriculum newsletters
Click to download
General information
PE - Children must bring a PE kit on Thursday afternoons for their sports session otherwise they will not be permitted to participate. Please ensure that PE kits adhere to regulatory uniform – no football strips or brightly coloured footwear.
Homework - will be given on a Friday and is due back on a Thursday.
Uniform - Regulatory school uniform should be worn at all times. Please ensure that your child is suitably dressed for the autumn weather (a warm coat will be needed for colder playtimes).
Water - Please provide your child with a reusable water bottle that can be kept in classrooms, thereby stopping infrequent visits to the cloakroom.
Punctuality - Pupils to be in school promptly for an 8.50am start.
Swimming
Garnet Class will be going swimming on a Tuesday afternoon. The lesson will run from 1.30pm to 2.00pm so children will depart school at lunchtime to ensure plenty of time to walk to the swimming pool.
On Wednesday afternoon Amethyst class will be going swimming. The lessons will run from 2.30pm until 3.00pm so the children will be back slightly late at around 3:45pm.
The children will need to bring in an appropriate swimming costume/swim shorts, a towel, a swimming hat and goggles (should they need them). Children should bring a plastic bag so as to store wet towels in their rucksacks. We discourage the wearing of jewellery, as it is not allowed in the pool. If children do not have swimming hats, these can be purchased from the swimming pool for £2.50 and please ensure that long hair is tied back.
Transition
Very shortly your children will be making the transition to Secondary school. Undoubtedly, this will be an exciting time for them; but we also understand that moving from Primary to Secondary school does cause our pupils to feel some sense of trepidation and anxiety. After all, it is a big step and a significant change for them.
Your child may need to talk through their feelings regarding their move and any anxiety or unease. The Year 6 team feel that this, along with transition sessions in school will ensure that they feel far better equipped for dealing with transition to Secondary.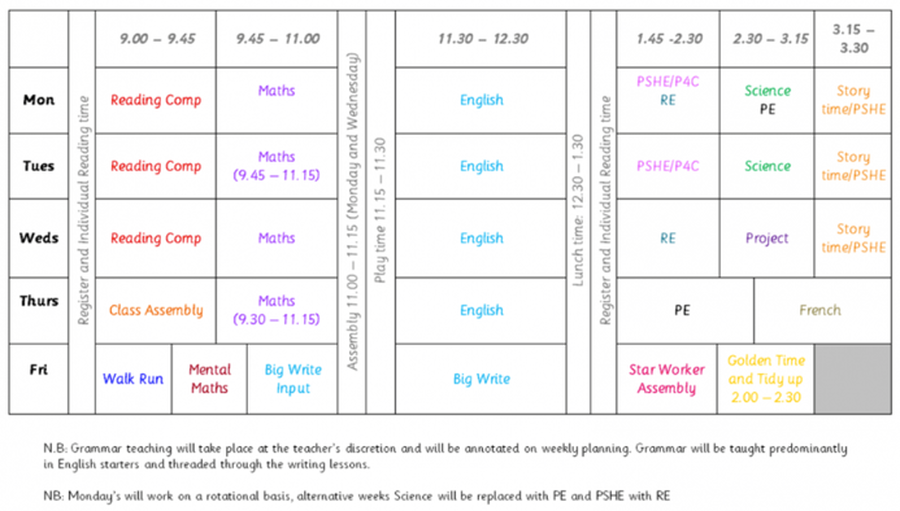 Other items
Arts Week will start on Monday the 26th May and the focus will be on Tanzania.
On Friday 30th we will be holding a 'Big Lunch - The Great Get Together' in memory of Jo Cox the MP who was killed last year. Many Great Get Together parties took place at the weekend in celebration of Jo's belief that we have more in common so let's celebrate unity.
11.30 YN, YR and Y 1 (BFH)
11.30 Y2 and Y3 (Dining Hall)
12.30 Y4, Y5 and Y6 (Dining Hall)
There is an African theme and so please try to wear something to represent Africa e.g. African headdresses, clothes, jewellery, masks or come as an African animal! Wear an outfit from Tanzania, Algeria, Egypt, Morocco, Ghana, Nigeria …
Please bring a dish or some food and don't forget to a plastic plate and cup in order to sample all the things on offer.
All are welcome and we hope to see you there!