Year 6

Amethyst Class

Teacher: Miss Jemma Johnson

Garnet Class

Teacher: Miss Arabella Atac

Year 6 Learning Support Teacher: Miss Adelaide Macleman

Next Amethyst Class Assembly - Thursday 19th July 2018 (Year 6 Leavers Assembly)

Next Garnet Class Assembl

y

- Thursday 19th July 2018

(Year 6 Leavers Assembly)
Welcome to Year 6!
Welcome back to the 2017-2018 academic year and thank you for visiting our Year 6 page. We will be sharing lots of the activities, visits and events that we have been involved in throughout the year. We hope you enjoy sharing our learning with us. This page will be updated on a weekly basis to help you find all the homework information that you need and additional information about important upcoming events.
Welcome back to the final term of school- only a few weeks of primary school left to go!
Arts

Week
To celebrate the centenary of women in the UK achieving the right to vote, our Arts Week this year will focus upon the the work of influential female artists. In Year 6 we will be specifically looking at the work of the 'Princess of Polka Dots' Yayoi Kusama, who is on of Japan's most prominent living artists. Now in her 80s, she is still producing art at an incredible rate and now has a 50-year retrospective of her work which opened at the Hirshhorn Museum in Washington, DC
Continuing this theme of female empowerment, we will also be thinking about other influential women across the decades and how they have impacted upon our society. Garnet class will be looking at Audrey Hepburn; a British actress, model, dancer, film and fashion icon as well as a humanitarian in her later life.
Amethyst class will be looking at Malala Yousafzai who is a Pakistani activist for female education and is the youngest Nobel Prize laureate winner and founder of the Malala Fund (a non-profit organisation).
Brace yourselves. PGL photos will be here soon!
Latest School, Term Dates, Friends PTA, Year 6 Events
* Secondary School transition meeting for Year 5 and 6 parents

21

Sep

2018

9:00 am - 10:00 am @ Middle Floor Hall

Parents and carers of children in Year 5 and 6 are invited to attend a transition meeting with Sam Lord (Education and Transition Consultant). The session takes parents, carers and guardians through the secondary school process, breaks down myths and barriers that they may of previously held about the process. The session gives an opportunity to ask any questions they have regarding secondary school transition and explore options that they might not have thought about before. The information is current and up to date. The session ensures that parents understand the admission criteria of different schools and that they are aware of how important it is to make six pragmatic choices for their children. They are made aware of the online application process and how to navigate around the online application form and upload additional information. The meeting will take place in the Middle Floor Hall and will be for approximately one hour. Sam Lord will be available to answer questions. We are inviting both Year 5 and Year 6 parents as previously our Year 5 parents have found this useful to be able to have more time to explore the options available.

Friends of Wendell Park 'Back to School' Disco

28

Sep

2018

3:30 pm - 5:30 pm

Timings of the FOWP 'Back to School' Disco to be confirmed.

Year 5 and 6 trip to the Primary Proms at the Royal Albert Hall

10

Oct

2018
SATs 2018
The children have worked incredibly hard and we are very impressed by their hard work, determination and passion to perform their very best. We will now look forward to focusing on transition; preparing the children for their move into secondary school and their future of education.
Please note that we will receive the children's SATs results in the week beginning the 9th July 2018.
Homework
Garnet class- Please bring in a plain white t-shirt for Arts Week. Remember to bring a donation for the non school uniform day on Friday.
Amethyst class - Remember to bring a donation for the non school uniform day on Friday.
Sex and Relationship Education
During the last term before the end of their primary school careers, the Year 6 children will have a series of lessons about sex and relationship education along with learning about puberty.
Parents will retain their current right to withdraw their children from these lessons provided that they inform the school in writing.
For further information, please see the relevant letter.
Swimming
This term Amethyst class will be swimming on Monday afternoons at 1:30pm and Garnet class will be swimming on Tuesday afternoons at 1:30pm.
Please see the letter for more information.
General Information
PE - Children must bring a PE kit on Wednesday afternoons for their sports session otherwise they will not be permitted to participate. Please ensure that PE kits adhere to regulatory uniform – no football strips or brightly coloured footwear.
Homework - will be given on a Friday and is due back on a Thursday.
Uniform - Regulatory school uniform should be worn at all times. Please ensure that your child is suitably dressed for the autumn weather (a warm coat will be needed for colder playtimes).
Water - Please provide your child with a reusable water bottle that can be kept in classrooms, thereby stopping infrequent visits to the cloakroom.
Punctuality - Pupils to be in school promptly for an 8.50am start.
Expectations
Reading - Pupils in Year 6 should be reading daily and as much as possible.
Times tables - By the end of Year 6 pupils should know all of their times tables and we recommend that these are practised as much as possible.
Spelling - Pupils will be given a weekly spelling test on Monday and so we expect them to revise their spellings at home.
Please find the Year 4 - 6 words to use at home here. Pupils should e able to spell all these words by the end of Year 6.
Please find the Meet the Teacher power point that contains a variety of information that will be relevant in supporting your child through their time in Year 6.
Year 6 curriculum newsletters
Summer 2
Weekly Timetable
Mondays - 9am whole school assembly and spelling test.
Tuesdays -
Wednesdays - singing assembly held in the afternoon. P.E kits required for Sports lesson.
Thursdays - Class assembly at 9am and homework due in.
Fridays - Golden Time.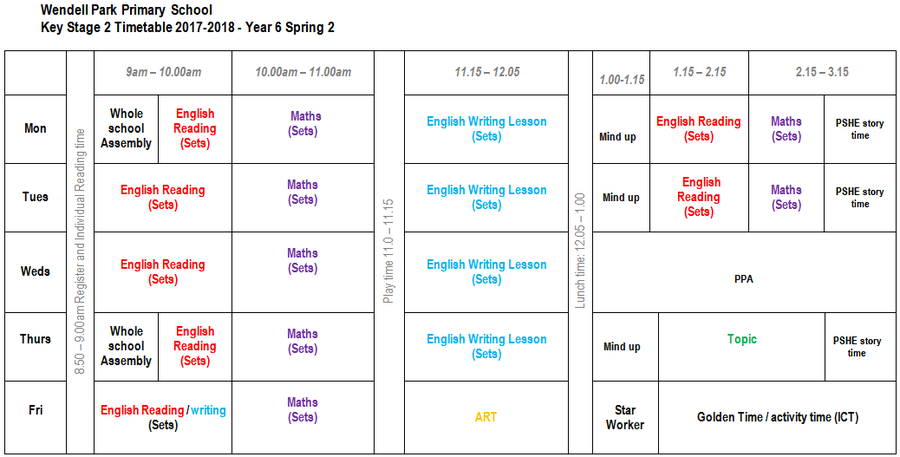 Free homework club!
If anyone from Year 5 or Year 6 would like additional support with their core subjects (reading, spelling and school projects) then they are able to join the Homework Club at Phoenix Academy. It runs every Thursday at Phoenix Academy, from 3.30pm to 5.30pm.
Please click here to see the Homework Club Flyer and click here to find the registration form.
Secondary Transfer
The online admissions procedure for children in Year 6 who will be moving to secondary school in September 2018 is now open. The deadline for applications to be made is 31st October 2017. You need to apply using the online form which can be found on the website of your home borough (even if you are applying for a school outside your home borough). The websites can be found below along with the admissions booklets for Hammersmith & Fulham (Tri-Borough), Ealing and Hounslow. It is recommended that you include all six choices on your application form. If you have any questions regarding the online application process, please speak to your class teacher, Mrs Hough or Ms Peters.
Hammersmith & Fulham:
Visiting dates for schools in the Tri-Borough
Ealing:
Hounslow: