Sensory Processing Workshop
Sensory Processing Workshop
18 June 2019 (by Elena Hough (admin))
Sensory Processing Workshop on Wednesday 26th June 2019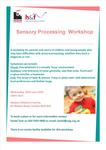 A workshop for parents and carers of children and young people who may have difficulties with sensory processing, whether they have a diagnosis or not.
Symptoms can include:
Visual: Overwhelmed in a visually 'busy' environment.
Auditory: Low tolerance of noise generally, says that noise 'hurts ears' or gives him/her a headache.
Oral: The sense of taste & texture. Fussy or picky eater with determined food preferences and limited range.
Please see the attached image for further information.