This term we will be looking at our topic of FOOD.
What other strange food combinations can you think of?
Looks at this fantastic Gingerbread man writing one of our friends from Moonstone class has done- this writing is so beautiful, well done for using some red words and for having lovely letter formation :)
Have a go at these fun science experiments for the kitchen:
M&M rainbow
Magical colour changing water
Floating oranges
Powerful lemons
Magnetic cereal
Show us your fabulous experiments on Tapestry :)
On a large piece of paper write your name or your friends name on to it. Then take some paint and use your finger to dot along the line of your name! Show us your beautiful creations on Tapestry :)
Watch out for phonics lesson videos for you to join in with!
Have a go at writing some words starting or ending with the sound and show us on Tapestry!
For more information of how we teach Read Write inc phonics at school go to this link and if you have any questions ask Miss Snipp or Mrs T: https://home.oxfordowl.co.uk/reading/reading-schemes-oxford-levels/read-write-inc-phonics-guide/
This term we will be sharing some fun physical phonics activities you can try at home- write a sound onto a piece of paper and then place it in a bowl, then go on a big hunt around your house to try and find objects that start with that sound or even have that sound in it, to then put in the bowl- Have fun!
Watch out for some fun tricky word activities below...
| Name | |
| --- | --- |
| t-l-3919-tricky-words-on-writing-practice-activity-sheets-_ver_3.pdf | Download |
| t-l-527701-pirate-treasure-phase-2-tricky-words-colouring-activity-sheet.pdf | Download |
| T-L-5993-Phase-2-Tricky-Words-Letter-Formation-Activity_ver_3.pdf | Download |
| t-l-9465-phase-2-and-3-tricky-words-mindfulness-colouring-pages-.pdf | Download |
| tf-pa-350-phase-3-space-alien-tricky-word-colouring-assessment-sheet.pdf | Download |
| tf-pa-351-phase-2-under-the-sea-tricky-word-colouring-assessment-sheet_ver_1.pdf | Download |
Showing 1-6 of 6
Inspired by ''FOOD" here is an activity you can try:
Why don't you make your own mud kitchen out of old pots and pans! Use mud, water, leaves, sticks and stones to make your own mud soup :)
Hello everybody!
As this week is all about the Little Red Hen, how about having a go at making some bread or bread rolls? Here are a couple of recipes to get you started - who will you ask to help you?!
Let us know how you get on!
We also found another story about the Little Red Hen, but this time she is making PIZZA! Take a listen to the story and see what you think about the ending of this one! We have put a recipe on for pitta pizza in case you would like to have a go at that too:)
Here is a little puppet show about the Little Red Hen who made a pizza:) At the end, the lady shows you how to make your own puppets - how about having a go at drawing your own Little Red Hen puppet story characters? You can use the templates below to get you started:)
Take a look here at the Change4Life website for more delicious recipe ideas and fantastic ideas for getting fit indoors:)
Have you had a good chat today?
It's good to talk and we would love to hear what you have been chatting and thinking about:)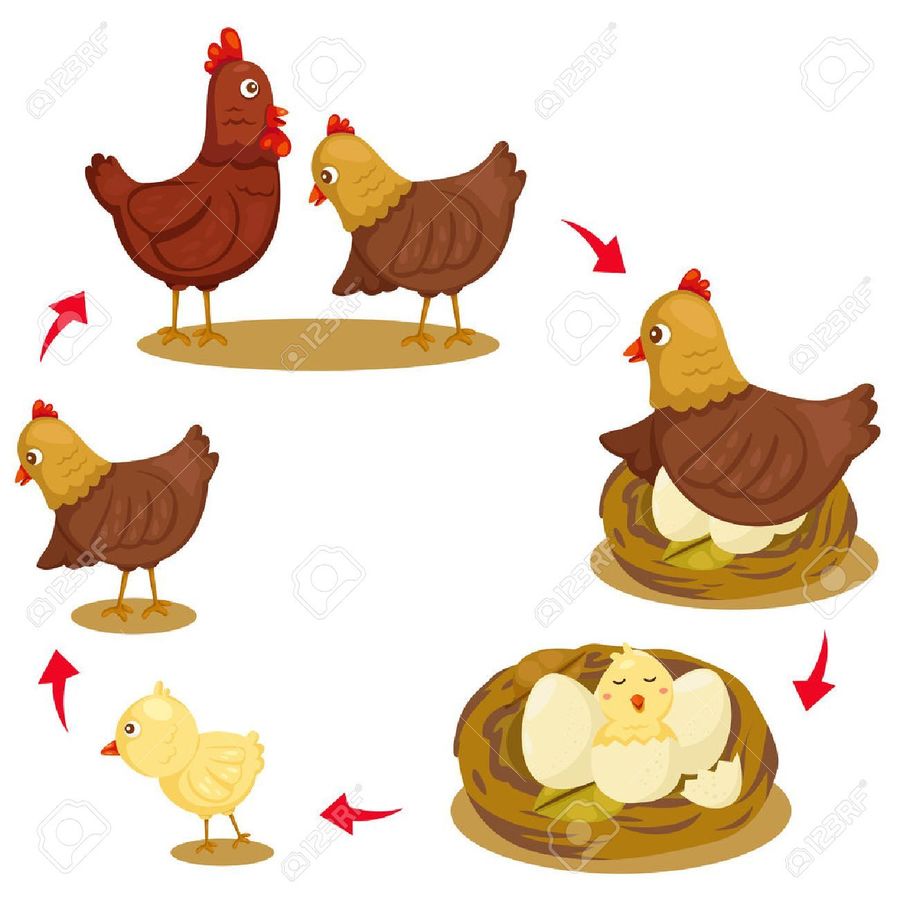 This week, as it's all about the Little Red Hen, we thought it might be interesting to find out a bit more about chicks and how they turn into hens! Have a little look at the info below and see if you can have a go at one of the life cycle activities.
WELCOME TO OUR EXCELLENT EXERCISE CORNER!
Here are some Little Red Hen and farm inspired yoga activities for you to have a go at:)