Year 5

PEARL Class

AMBER Class

Year 5 Learning Support Teacher: Dan Katon

Year 5 Learning Support Assistants: Abi Spurway, Ewelina Dos Santos, Rachida Terzi

The Friends of Wendell Park Primary School Class Reps for Year 5 are: COMING SOON

If you require your class rep's contact information, please speak to the School Office.
Welcome to Year 5 2020/2021

Hello Year 5!
We hope you've all had a restful holiday, have stayed well and are ready to come back to school. All of your teachers are incredibly excited to see you. We have made a 'meet the teacher' video, that you can view below, to show you your new classrooms and to explain some of the changes you will notice when you return. You will also be able to find the 'Meet the Teacher' Powerpoint below. If you have any question please do not hesitate to contact us.
We can't wait to see you!
Ms Douglas, Ms Harman and Mr Katon
Click here for the Year 5 'Meet the Teacher' PowerPoint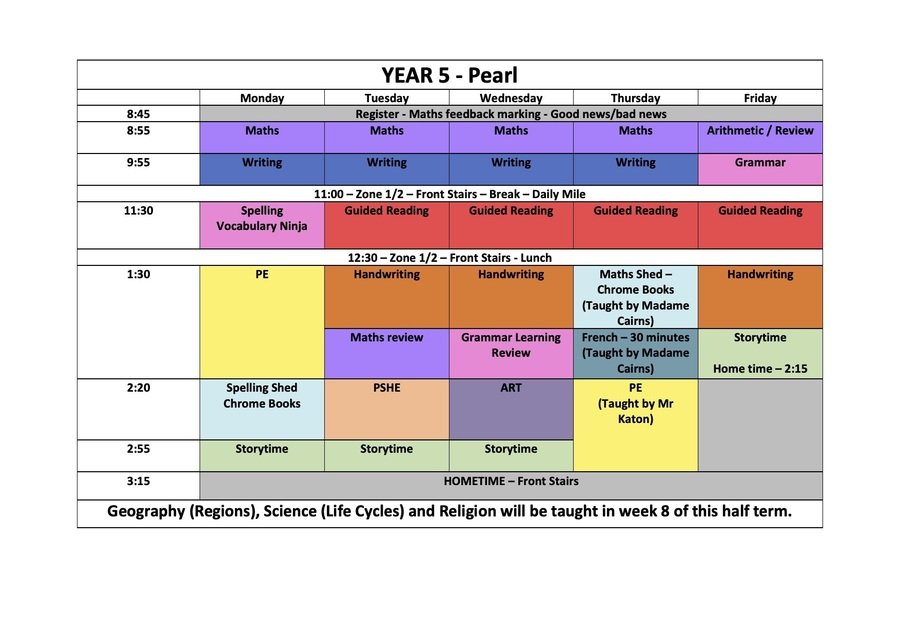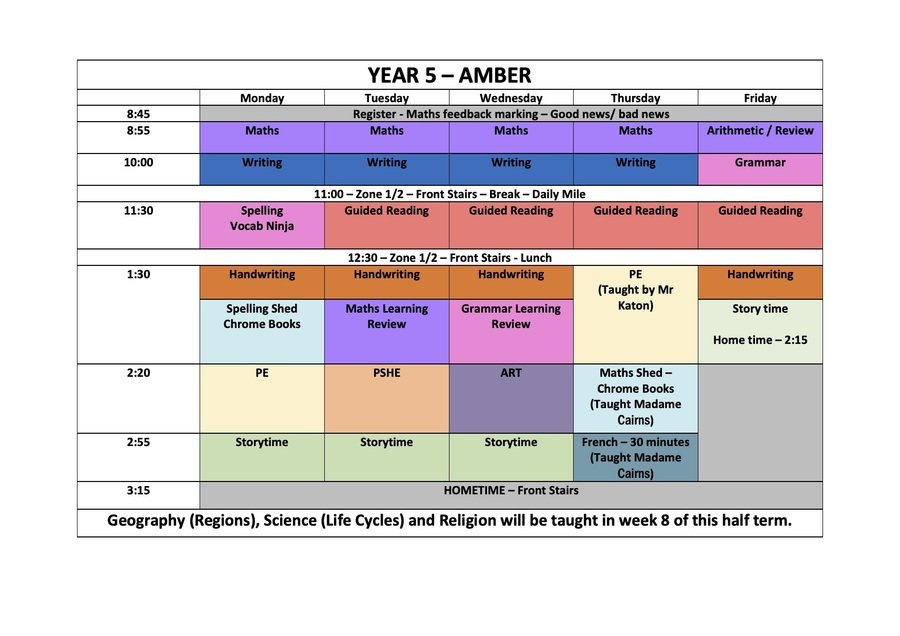 Diary
Latest School, Term Dates, Friends PTA, Year 5 Events
Reading & Phonics parent workshop (via Zoom)24Sep2020

9:00 am - 9:45 am
Secondary Transition Meeting (via ZOOM)30Sep2020

9:15 am - 10:15 am

Year 5 and 6 parents are invited to attend a virtual secondary transition meeting run by Mrs Hough and Sam Lord (transition coordinator for Hammersmith and Fulham). The meeting will be held virtually on Zoom and the meeting ID and password has been circulated. Please contact the School Office if you have any questions.
Non-uniform day (wear yellow and bring a £1 donation to raise money for Young Minds)09Oct2020
Maths in the Early Years Parent Workshop (via Zoom)15Oct2020

9:00 am - 9:45 am
Autumn Term 1 ends22Oct2020
School closed - INSET Day23Oct2020
HALF TERM26Oct2020
Autumn Term 2 starts for all pupils02Nov2020
Reception to Year 6 Nasal Flu Vaccination Programme05Nov2020

1:30 pm - 3:30 pm
Additional InformatioN
PE will take place on Mondays and Thursdays.
Please wear your correct PE kit to school on PE days: White top, black joggers/leggings/shorts, and black trainers/plimsolls.
We encourage you to bring bottles of water to school- your brain is 80% water so needs it to maximise its function. Ideally in a reusable bottle.
Notes
Monday - Wear P.E. kits to school and Spelling Quiz
Tuesday -
Wednesday - Homework due
Thursday - Wear PE Kit to School
Friday - New Homework set
Homework
Maths and English homework will be sent home on Fridays and is due each Wednesday.
Reading
We expect Year 5 children to change their own reading books as often as possible, bringing their reading records in to school frequently to be checked by the class teacher. We encourage you to read as much as you can- at least 20 minutes every day!
Our recommendations...
Click here for an amazing list of reading books that we recommend reading for year 5!
You can also visit the Book Trust here and search for your own reading book based on your interests. Enjoy!
We had a chat about our favourite books - have a look at our list - let your class know what you think...