Year 6

Ruby Class

Amethyst Class

Teacher: Miss Charlotte Fairclough

Year 6 Learning Support Assistant: Miss Megan Brandes, Mrs Carol Eavis

Year 6 Learning Support Teacher: Mr Matthew Williams


The Friends of Wendell Park Primary School Class Reps for Year 6 are: Nicola (Ruby Class) and Amethyst Class currently has a space

If you require your class rep's contact information, please speak to the School Office.
| | |
| --- | --- |
| Next Ruby Class Assembly - THURSDAY 3rd october 2019 | Next Amethyst Class Assembly - THURSDAY 7th november 2019 |
Welcome to Year 6!
Welcome back to the second half of the Autumn term. We are thoroughly excited to be working with your children this year and have many enthralling topics planned for them.
This half term, our learning in English will be centred around Clockwork by Phillip Pullman. In Project we will be learning all about the Windrush. In Maths, we are beginning our learning with looking at division, angles and fractions. In Science, we will be looking at the heart and the impact that diet and drugs have on this vital organ.
Please keep referring to our webpage to keep updated with Year 6.
Diary
Latest School, Term Dates, Friends PTA, Year 6 Events
* Year 6 trip to the Pantomime at The Lyric Theatre19Nov2019

9:00 am - 2:00 pm
International Men's Day19Nov2019
Year 6 Verse vs Verse20Nov2019
Year 6 Verse vs Verse21Nov2019
Bling your bike day!22Nov2019
FOWP School Disco (Key Stage 1)22Nov2019

2:30 pm - 3:30 pm
FOWP School Disco (Key Stage 2)22Nov2019

3:45 pm - 4:45 pm
Year 5/6 Dodgeball team tournament27Nov2019

9:00 am - 1:00 pm
School tour for prospective parents27Nov2019

9:30 am - 10:30 am
Year 3 and 5 trip to the Lyric Theatre pantomime28Nov2019
Last week of after school clubs02Dec2019
Christmas Choir singing carols at Chiswick Nursing Centre03Dec2019

1:30 pm - 3:30 pm
School tour for prospective parents04Dec2019

9:30 am - 10:30 am
* FOWP Coffee Morning06Dec2019

9:00 am - 10:00 am @ Family Centre (through the Reception playground)

All welcome
School tour for prospective parents06Dec2019

9:30 am - 10:30 am
Enabling Enterprise Week09Dec2019
* Carol singing at Ravenscourt Park Tube Station09Dec2019

6:00 pm - 7:00 pm @ Ravenscourt Park Tube Station

In what has now become an annual tradition, children, families and teachers are warmly invited to come along and sing carols whilst raising money for the school. Meet at Ravenscourt Park Tube Station at 6pm and dress warmly! Carol word sheets will be provided. Bring your best voices!
Netball Team to Godolphin and Latymer (timings TBC)10Dec2019

2:40 pm - 4:40 pm
School tour for prospective parents11Dec2019

9:30 am - 10:30 am
Christmas Lunch12Dec2019

11:30 am - 1:00 pm
Christmas Jumper Day (raising money for Save the Children)13Dec2019

Wear your best festive jumper and donate £1 to Save the Children You don't need to go out and buy a jumper... why not accessorise a t-shirt/top with some glitter, tinsel or hand-drawn pictures.
* FOWP Winter Fair13Dec2019

2:30 pm - 5:00 pm
Christingle Assembly16Dec2019

9:00 am - 10:00 am
* Circus Skills club performing for parents17Dec2019

3:00 pm - 3:30 pm @ Ground Floor Hall
* Key Stage 1 Christmas Play18Dec2019

9:30 am - 10:30 am
* Key Stage 1 Christmas Play18Dec2019

2:00 pm - 3:00 pm
End of Autumn Term19Dec2019

3:30 pm - 3:30 pm
Christmas Holiday20Dec2019
School closed INSET day06Jan2020
Start of Spring Term07Jan2020

8:50 am - 8:50 am
Year 6 Curriculum OVERVIEW
General Information
PE will take place on Wednesdays. Please make sure you bring correct PE kit: White top, black joggers/leggings/shorts, and black trainers/plimsolls.
Homework will be due in on a Thursday and new tasks will be given out on a Friday.
Spelling tests will be on a Monday and a new list will be provided to learn for the following week.
We encourage you to bring bottles of water to school- but please bring only water.
We expect year 6 children to change their own reading books as often as possible, bringing their reading records in to school frequently to be checked by the class teacher. We encourage you to read as much as you can- at least 20 minutes every day! Miss Yusuf and Miss Fairclough are both avid readers and would love to hear your recommendations.
Notes
Mondays - Spelling test
Tuesdays -
Wednesdays - PE kit.
Thursdays - Class assembly at 9am. Homework due.
Fridays - Golden Time. New homework given.
Weekly Timetable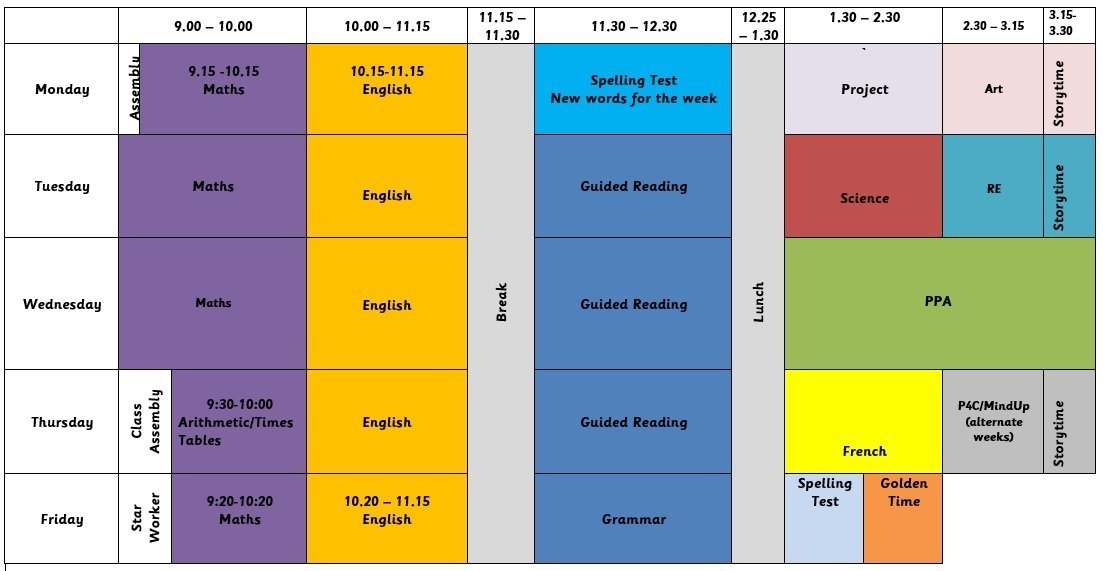 Homework AUTUMN 2
Week 1 -
Week 2 -
English - Due 14th November
Week 3 -
Reading
Secondary Transfer (2019-2020)
The online admissions procedure for children in Year 6 who will be moving to secondary school in September 2020 is now open. The deadline for applications to be made is 31st October 2019. You need to apply using the online form which can be found on the website of your home borough (even if you are applying for a school outside your home borough). The websites can be found below along with the admissions booklets for Hammersmith & Fulham (Tri-Borough), Ealing and Hounslow. It is recommended that you include all six choices on your application form. If you have any questions regarding the online application process, please speak to your class teacher or Mrs Hough.
Please click here for a link to the presentation given by Sam Lord (transition consultant) on secondary transfer.
Please click here for a link to the schools comparison website where you can find out more information about local secondary schools.
Please click here for the transition to secondary school document produced by Wendell Park Primary School.
Hammersmith & Fulham:
Ealing:
Hounslow:
Website including links to Admissions brochure and parent open meetings
Wandsworth:
Please click here for information about applying to Wandsworth schools including information about those schools which require you to apply to sit a test during September.
School Information
Please find below information received directly from schools:
Fulham Cross Academy Open Event
Fulham Cross Academy is a new Science, Technology, Engineering and Maths (STEM) specialist school for boys and girls opening in September 2020.
Click here to register interest for their open event on 2nd October 2019 from 4:30pm to 7pm
Ark Sloane Academy
We have two open sessions on Wednesday 25th September. The morning session will take place at 9am to 10.30am in St Mary's Church (W3 9NW) and the evening session will take place from 5pm to 6.30pm at Ark Priory (Acton Ln, Acton, London W3 8NR).
There will also be an open session at 9:30am to 11am on Saturday 28th September at Ark Acton (Gunnersbury Ln, Acton, London W3 8EY).
Sam shared the following slide of schools children at Wendell Park moved on to in September 2019: