Year 6

Ruby Class

Teacher: Miss Jemma Johnson

Amethyst Class

Teacher: Miss Charlotte Fairclough

Year 6 Learning Support Assistant: Mrs Marian Turay

Key Stage Two Learning Support Teachers: Mrs Juliette Lambert, Mrs Lena Abu-Oun (currently on Maternity Leave), Ms Aneta Osimowicz

| | |
| --- | --- |
| Next Ruby Class Assembly - Thursday 18th July 2019 (Leavers Assembly) | Next Amethyst Class Assembly -Thursday 18th July 2019 (Leavers Assembly) |
Welcome to Year 6!
Welcome to Year 6! We hope you have had a very pleasant and restful summer holiday and are now ready and raring to go with the new school year! We are looking forward to welcoming a new cohort into the realms of independence and responsibility that come with being in Year 6. As well as beginning our first History and Science projects (World War 2 and Animals), we will be getting the ball rolling with English and Maths, as we have a busy year ahead in order to prepare the children for the transition into secondary school. We will also have plenty of exciting opportunities to look forward to such as our trip to the Royal Albert Hall and the selection of new prefects!
We are excited to get to know both children and parents alike- if you have any questions/queries, please feel free to ask! Please also see the "Meet the Teacher" Power Point for more information.
Latest School, Term Dates, Friends PTA, Year 6 Events
School closed INSET day

02

Sep

2019

Start of Autumn Term 2019

03

Sep

2019

8:50 am - 8:50 am

* Meeting for Year 5 and 6 parents regarding transition to secondary school

20

Sep

2019

9:00 am - 10:00 am

Year 5 and 6 parents are invited to attend a meeting regarding transition to secondary school. We will be welcoming Sam Lord, transition consultant, who will be explaining the application/admissions process and giving further information about the options parents have in terms of schools in the local area. Sam is an excellent source of information and will be happy to answer any questions you have following the meeting.

End of Autumn 1st Half

18

Oct

2019

2:30 pm - 2:30 pm
Year 6 Curriculum Newsletter
General Information
PE will take place on Wednesdays. Please make sure you bring correct PE kit: White top, black joggers/leggings/shorts, and black trainers/plimsolls.
Homework will be due in on a Thursday and new tasks will be given out on a Friday.
Spelling tests will be on a Monday and a new list will be provided to learn for the following week.
We encourage you to bring bottles of water to school- but please bring only water.
We expect year 6 children to change their own reading books as often as possible, bringing their reading records in to school frequently to be checked by the class teacher. We encourage you to read as much as you can- at least 20 minutes every day! Miss Johnson and Miss Fairclough are both avid readers and would love o hear your recommendations.
Notes
Mondays - Spelling test
Tuesdays -
Wednesdays - PE kit.
Thursdays - Class assembly at 9am. Homework due.
Fridays - Golden Time. New homework given.
Weekly Timetable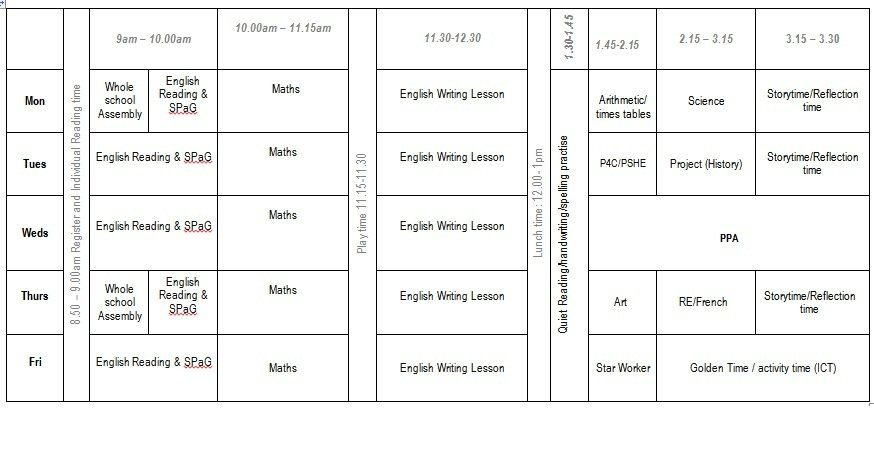 Year 6 Residential Monday 10th June to Wednesday 12th June 2019
Monday
11:30am Ms Yusuf writes "Everything was fine on the way. We are arriving now so will send another update when we are settled!"
7:30pm Ms Yusuf writes "Despite a wet start to the day, the children have settled in great and had a fun-filled afternoon. They began with an obstacle course and despite the mud, managed to complete the course in record timing! They then went on to face the death defying see-saw and faced their fears to climb to the top and balance. We are now enjoying a lovely dinner before we finish off our night with a bottle rocket activity."
Mrs Hough has spoken to the teachers and everyone is doing well despite the cold and wet and a bit of an issue getting into the rooms until this evening.
Tuesday
11:45am Mrs Sweeney has messaged to say that everyone is doing well and they are currently doing a climbing activity called Jacob's Ladder!
1:20pm Ms Fairclough writes " We've had a busy morning! We worked on our teamwork and communication skills doing a blindfolded obstacle course, followed by an exciting experience on the colossal Jacob's Ladder. We then did some fun aeroball on the trampolines and still have loads to go! All having fun :) "
9:25pm Mrs Sweeney has messaged to say that they have all just got back from a camp fire!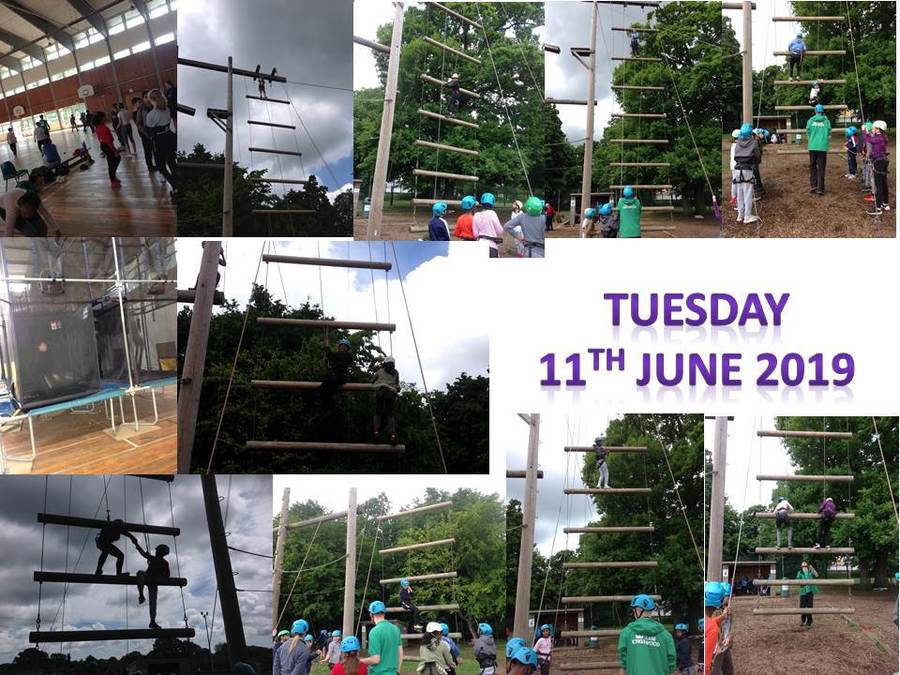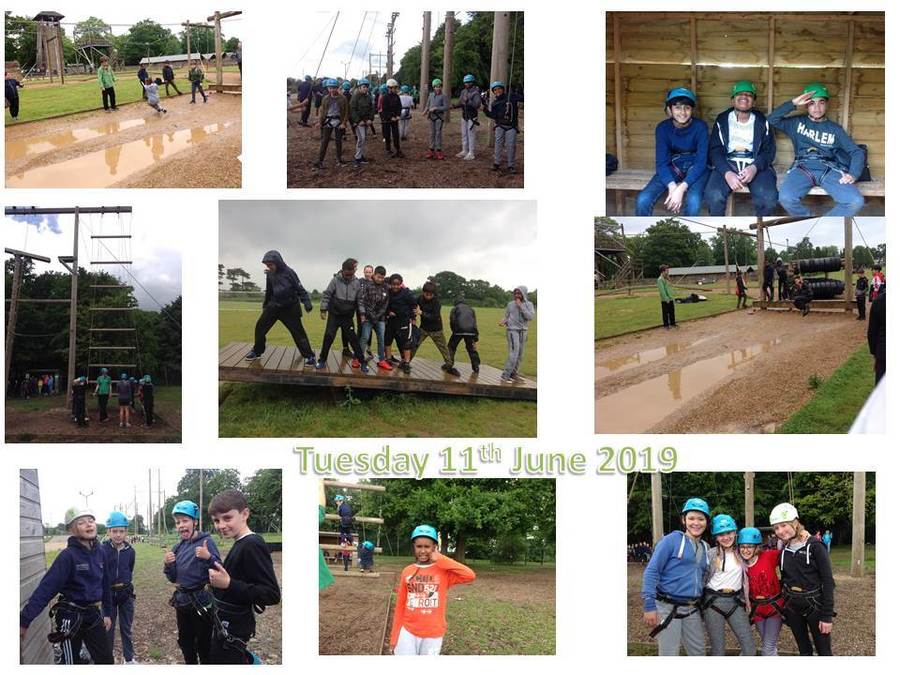 Secondary Transfer (2018-2019)
The online admissions procedure for children in Year 6 who will be moving to secondary school in September 2019 is now open. The deadline for applications to be made is 31st October 2018. You need to apply using the online form which can be found on the website of your home borough (even if you are applying for a school outside your home borough). The websites can be found below along with the admissions booklets for Hammersmith & Fulham (Tri-Borough), Ealing and Hounslow. It is recommended that you include all six choices on your application form. If you have any questions regarding the online application process, please speak to your class teacher or Mrs Hough.
Please click here for a link to the presentation given by Sam Lord (transition consultant) on secondary transfer.
Hammersmith & Fulham:
Admissions booklet 'Moving on Up' 2019
The application process 2018 presentation
Ealing:
Link to admissions booklet 'Starting High School 2019'
Hounslow:
Website including links to Admissions brochure and parent open meetings
School Information
Please find below information received directly from schools:
Merchant Taylors' School (Independent) Open Morning on 22nd September 2018 from 10am to 12:30pm. Follow the link to register your interest: https://www.mtsn.org.uk/contact-us/open-morning/