Year 6

Ruby Class

Amethyst Class

Teacher: Miss Charlotte Fairclough

Year 6 Learning Support Assistant: Miss Sihaam Yusuf, Mrs Carol Eavis

Year 6 Learning Support Teacher: Mr Matthew Williams

| | |
| --- | --- |
| Next Ruby Class Assembly - 3rd october | Next Amethyst Class Assembly - 7th november |
Welcome to Year 6!
Welcome back after what we hope has been a relaxing and enjoyable summer holiday! We are thoroughly excited to be working with your children this year and have many enthralling topics planned for them.
This half term, our learning in Project and English will be centred around World War 2. In English and guided reading, we will be focusing on a captivating text called 'Goodnight Mr Tom'. In Maths, we are beginning our learning with looking at numbers and understanding the value of numbers up to 10,000,000. In Science, we are studying the unit of 'Inheritance and Evolution'.
Please keep referring to our webpage to keep updated with Year 6.
Diary
Latest School, Term Dates, Friends PTA, Year 6 Events
* Harvest Assembly19Sep2019

9:00 am - 9:20 am
* FOWP Coffee Morning20Sep2019

9:00 am - 10:00 am @ Family Centre (through the Reception playground)

All parents and carers are warmly invited to come to the Friends of Wendell Park coffee morning to meet the Senior Leadership Team and representatives from FOWP.
* Meeting for Year 5 and 6 parents regarding transition to secondary school20Sep2019

9:00 am - 10:00 am

Year 5 and 6 parents are invited to attend a meeting regarding transition to secondary school. We will be welcoming Sam Lord, transition consultant, who will be explaining the application/admissions process and giving further information about the options parents have in terms of schools in the local area. Sam is an excellent source of information and will be happy to answer any questions you have following the meeting.
Start of Black History Month (1st to 31st October)01Oct2019
* Parent workshops for parents of children in Year 1 to Year 602Oct2019

3:45 pm - 4:30 pm @ Classrooms

Parents and carers of children in Years 1 to 6 are warmly invited to come to workshops which will be held in classrooms on Wednesday 2nd October from 3:45pm to 4:30pm. Teachers will be providing advice on how to support children with their learning at home - including some practical activities to get involved in! If you are unable to make the session, we will post all presentations on the relevant year group webpage.
Multi Faith Week07Oct2019
Individual school photographs10Oct2019
* Year 4 Graphite Class Assembly (Black History Month)17Oct2019

9:00 am - 9:30 am
End of Autumn 1st Half18Oct2019

2:30 pm - 2:30 pm
Half Term21Oct2019
Start of Autumn Term 2nd Half28Oct2019

8:50 am - 8:50 am
* Parents' evening (3:45pm to 5pm) **NOT YEAR 6**30Oct2019

3:45 pm - 5:00 pm
* Parents' evening (3:45pm to 7pm)31Oct2019

3:45 pm - 7:00 pm
Anti-Bullying Week11Nov2019
Year 6 Curriculum OVERVIEW
General Information
PE will take place on Wednesdays. Please make sure you bring correct PE kit: White top, black joggers/leggings/shorts, and black trainers/plimsolls.
Homework will be due in on a Thursday and new tasks will be given out on a Friday.
Spelling tests will be on a Monday and a new list will be provided to learn for the following week.
We encourage you to bring bottles of water to school- but please bring only water.
We expect year 6 children to change their own reading books as often as possible, bringing their reading records in to school frequently to be checked by the class teacher. We encourage you to read as much as you can- at least 20 minutes every day! Miss Yusuf and Miss Fairclough are both avid readers and would love to hear your recommendations.
Notes
Mondays - Spelling test
Tuesdays -
Wednesdays - PE kit.
Thursdays - Class assembly at 9am. Homework due.
Fridays - Golden Time. New homework given.
Weekly Timetable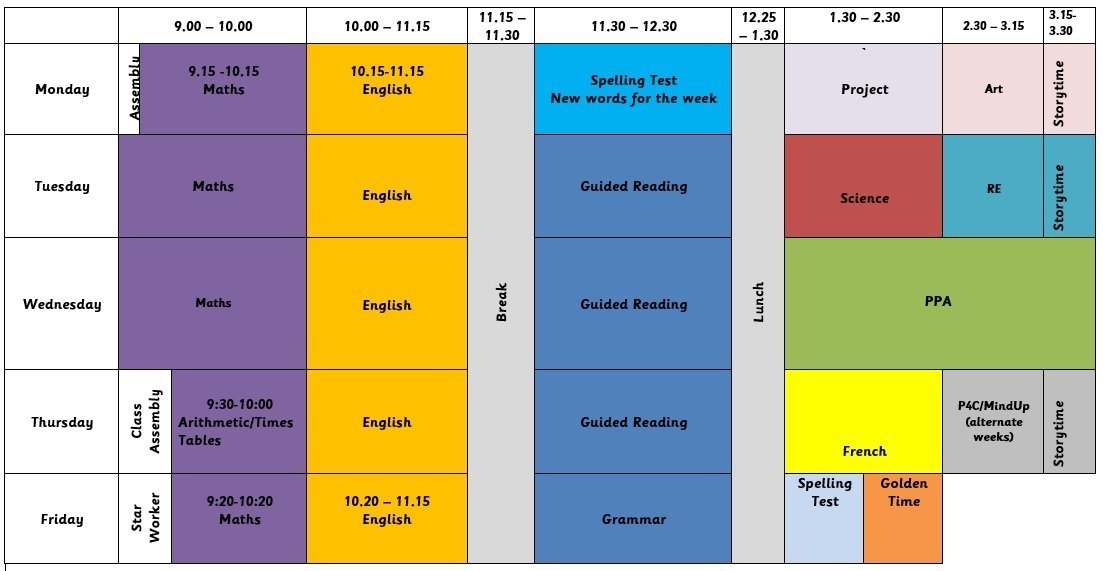 Secondary Transfer (2019-2020)
The online admissions procedure for children in Year 6 who will be moving to secondary school in September 2020 is now open. The deadline for applications to be made is 31st October 2019. You need to apply using the online form which can be found on the website of your home borough (even if you are applying for a school outside your home borough). The websites can be found below along with the admissions booklets for Hammersmith & Fulham (Tri-Borough), Ealing and Hounslow. It is recommended that you include all six choices on your application form. If you have any questions regarding the online application process, please speak to your class teacher or Mrs Hough.
Please click here for a link to the presentation given by Sam Lord (transition consultant) on secondary transfer.
[This will be updated after meeting on 20th September 2019]
Hammersmith & Fulham:
Ealing:
Hounslow:
Website including links to Admissions brochure and parent open meetings
Wandsworth:
Please click here for information about applying to Wandsworth schools including information about those schools which require you to apply to sit a test during September.
School Information
Please find below information received directly from schools: