Personal Social Health Education
PSHE allows children to explore and understand growing and changing, feelings, relationships, identity, citizenship, identity, responsibilities, exercise and healthy eating
PSHE Curriculum
PSHE is an integral part of the curriculum at Wendell Park and encompasses all areas designed to promote children's personal social and health development. It gives children the knowledge, skills and understanding that they need to stay healthy and safe, develop worth while relationships, respect differences, develop independence and responsibility and make the most of their abilities and those of others.
How do we do this at Wendell Park?
We use the Cambridgeshire scheme of work which begins in the foundation stage and continues throughout. In Reception children will be learning about 'Me and My Feelings', 'Working and Playing Together', and how to keep healthy and safe.
In Years 1 & 2 (Key Stage 1) they continue exploring myself and my relationships but will begin to incorporate Citizenship (Why do we have rules in school?, How do I use money?, How are people I know the same or different?), and looking into healthy and safe and lifestyle choices in more depth.
(What do I know about healthy food and exercise? What are the names of the main parts of the body?)
During Years 3 & 4 children begin thinking about working together in more detail and will have a go at discussing important questions such as 'What can I do when friendships go wrong?', 'How can I be a better listener ?' What am I good at?, Citizenship includes thinking about 'What are our responsibilities at home and at school?' and 'how can I care for my local environment?'
In Years 5 & 6 the focus is on Friendships & Difference, Roles & Responsibilities, Communities & Identities and Growing & Changing.
RHE (Relationships & Health Education) is run alongside our PSHE curriculum. From September 2020, all children of primary age will be taught Relationships & Health Education. At Wendell Park we use the Christopher Winter Project resources to deliver an appropriate curriculum as advised by the Healthy Schools Partnership. Please see below for an overview of the curriculum. Please click here to read the Relationships & Health Education Policy.
During the school year at Wendell Park we have several seemed weeks such as Anti-Bullying Week, Sports Week and Black History Month; all of which encourage the children to develop awareness and explore cross curricular links.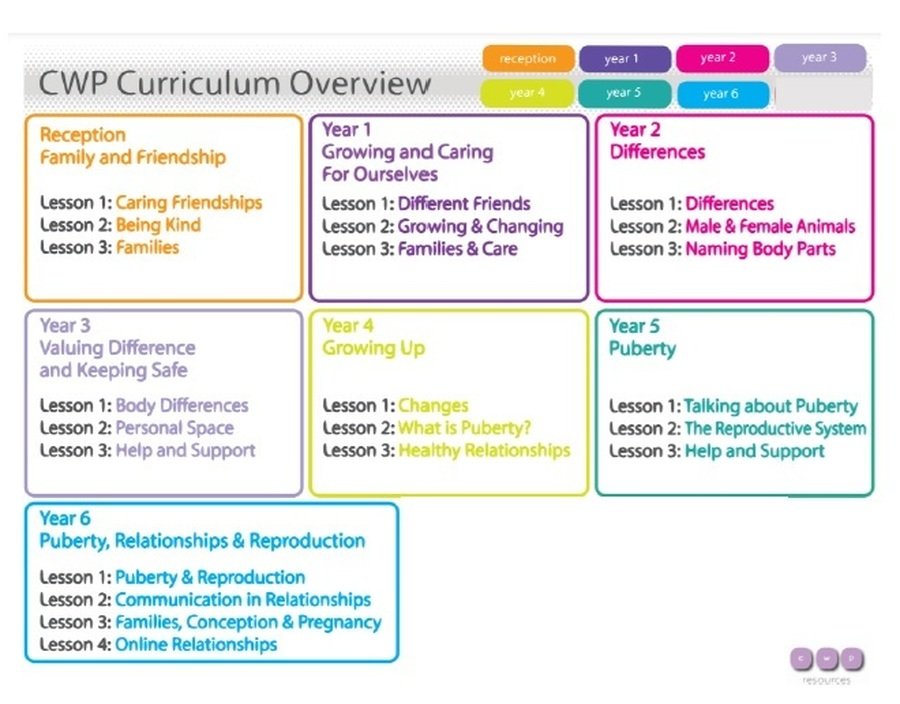 Healthy Eating
We encourage healthy eating in and out of school and we teach all children the principles of eating healthily as part of the PHSE curriculum. The school is also a member of the Healthy Schools programme and has already achieved its Bronze and Silver whole school awards and Gold Early Years Award. As of summer 2018, we have now achieved our Healthy Schools whole school Gold award which was focused around informing children about the changes to the Eatwell Plate and encouraging healthier pack lunches throughout the school and on trips out of school.
As part of the requirements of the Healthy Schools Award we are no longer able to accept Birthday cakes at school. You are welcome to provide healthy snacks to share with your child's class for their special day, but please ensure that all treats are 100% nut free and low sugar. Examples might be fruit breads, fruit kebabs, muffins, carrot/lemon/banana/raisin cakes, popcorn (no added salt/sugar) or flapjacks.
We are pleased to confirm that Radish provide nutritious school meals cooked on the premises and Wendell Park is signed up to the Gold standard for school meals. This means all eggs and chicken are free range and all other meat is 'Red Tractor.' This means food is safe to eat and has been sourced responsibly from farm to fork! If you would like to swap your child from packed lunches to school meals, please contact the school office. Please click here for more information about school meals: School Meals
We have a packed lunch policy and have provided lots of guidance re providing a nutritious and healthy packed lunch for your child which we hope will be both informative and helpful.
If you have any questions or ideas, please get in touch with Mrs T, PSHE subject leader.
NSPCC 'Speak out. Stay Safe.' Programme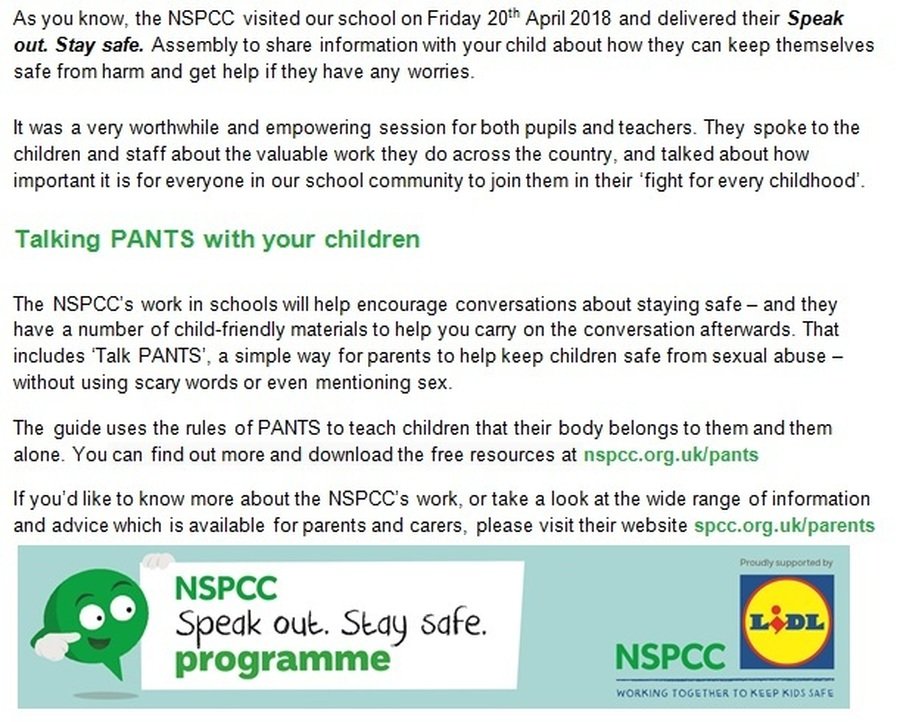 The Eatwell Plate
Use the eatwell plate to help you get the balance right. It shows how much of what you eat should come from each food group.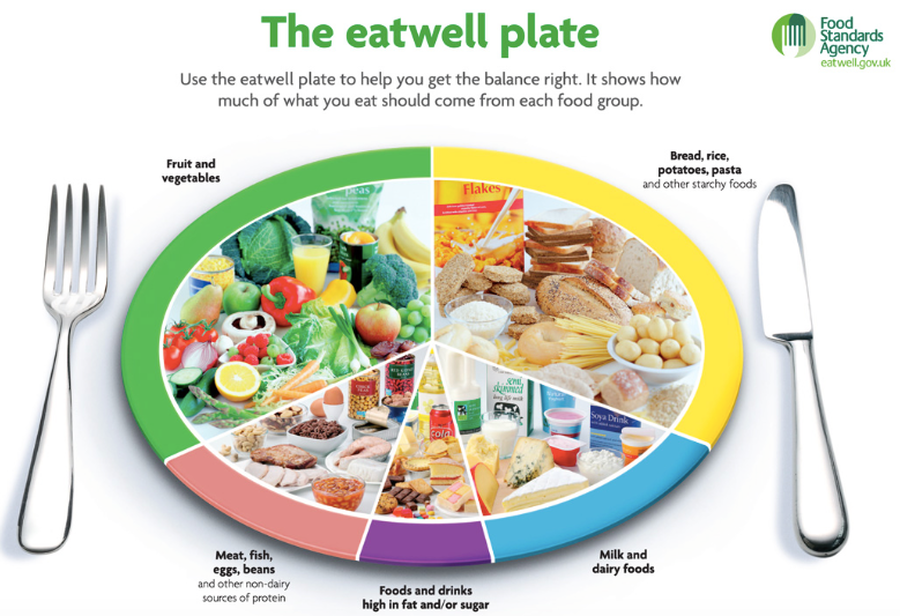 Sorry no sweet birthday cakes!
However you can bring healthy nut-free low-sugar snacks such as carrot muffins, banana bread, fruit kebabs and cheese straws.