Bling your bike day!
Bling your bike day!
18 November 2019 (by ELENA HOUGH (admin))
Friday 22nd November 2019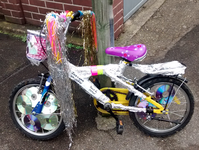 Bling Your Bike at Wendell Park
Dear Parent/Guardian,
We will be holding a Bling Your Bike competition on 22nd November at Wendell Park which is open to all children in the school.
This is an opportunity to decorate your bike or scooter at home and then ride it, or bring it to school. You can use glitter, ribbons, coloured card, stickers, or anything else colourful you have at home, preferably recycled! Please be as creative as you like! The theme of the competition is Be Bright, Be Seen.
On the morning of the competition, please leave the bike/scooter in the bike racks at the front of the school. Ensure that the bike/scooter is clearly labelled with your child's name, so the bike can be identified when it comes to choosing the winners.
Please ensure that no decorations interfere with brakes, chain, pedals and wheels, and that all bikes will be safe to ride.
We look forward to seeing all your creations!
Sustrans
Join The Movement